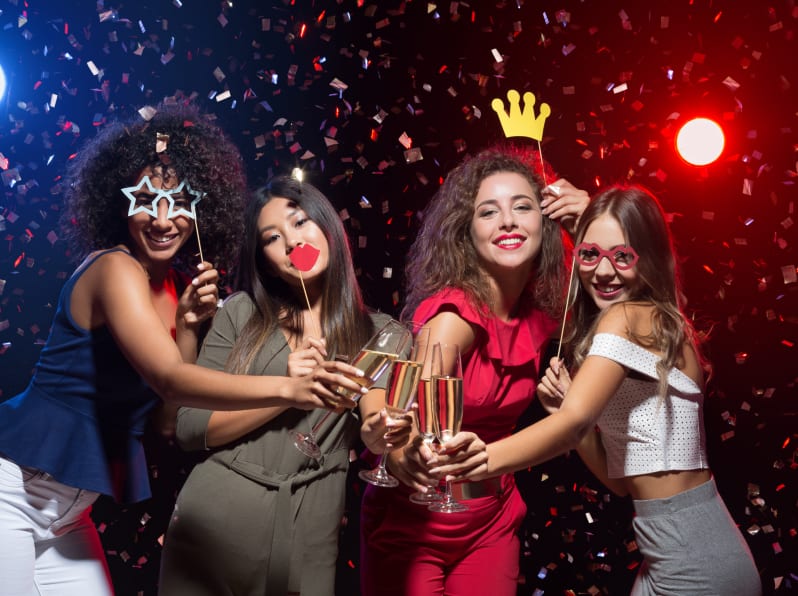 Are Photo Booths Still Relevant in the Age of Social Media?
In an age of social media, where many of our photos come in the form of filtered selfies or boomerangs, is it reasonable to think that photo booths are still relevant? The answer may surprise you, but yes, photo booths remain a popular attraction at many weddings, parties, and other events! According to Forbes, photo booth rentals continue to be searched for more often than DJs when it comes to planning your upcoming events.
A Cut Above is a photo booth rental company ready to provide a fun experience with lasting, tangible memories. See, the reason that photo booths continue to remain relevant in today's social climate has nothing to do with whether or not the photos are better than the new iPhone 12 Pro; it is about the experience of getting into a photo booth with a bunch of friends or a loved one. Photo booths provide an authentic and nostalgic opportunity to create a memory that you will get to keep forever.
Will Guests Use a Photo Booth if I Get One at My Event?
Think of renting a photo booth as being in the same category as getting a band to play at your wedding or a bouncy castle at your kid's birthday party; photo booths are entertainment for your guests.
They are great entertainment for every generation. The older generations will feel nostalgic, while the younger generations will feel excited at the opportunity to cram into the booth making goofy lasting memories.
It is something different to do. Anyone can pull out their smartphone and snap a quick selfie, but it is not every day you get to enjoy a photo booth!
You are giving them a keepsake. After leaving a photobooth, you instantly receive that printed strip of silly photos that will remind you of that event every time you look at them.
There is something special about having a printed photo. Many of our memories remain in the photo albums of our smartphones and are quickly forgotten; having instantly printed photos is something people do not get every day.
If you are weighing your pros and cons list on whether people will use the photo booth you plan to rent at your next event, consider all the pros above. Not to mention, you can guarantee that the photos your guests will wake away with will be memories worth keeping because A Cut Above not only sets up your photo booth free of charge, but they ensure fantastic photos! A professional photographer sets each frame, and a graphic designer creates fun templates perfect for each capture.
What Are Fun and Unique Photo Booth Ideas?
Photo booths are already a ton of fun on their own, but there are ways to make your photo booth one your guests will never forget!
Create a signature pose for your guests to do in one of their frames. This is a fun way to get everyone excited to give their interpretation of the pose.
Have a competition to see who can get the best, funniest, or craziest photos in your photo booth.
Provide accessories and props for your guests to use while in the photo booth. From crazy hats and wigs to fake mustaches and magic wands, adding props is a fun and easy way to give your photo booth your unique touch!
The best thing about renting a photo booth at your next event is that there are no rules. No matter how silly or unique you make your photo booth experience, it is all about letting loose and having fun with your guests.
South Florida Photo Booth Rentals for Your Special Event
Photo booths are a timeless, fun-filled attraction perfect for corporate events, weddings, birthday parties, and so much more! A Cut Above provides you and your guests with reliable service, a rocking photo booth complete with props and unique templates, and an experience you and your guests won't soon forget. Click here for a free quote, or call A Cut Above at (407) 216-7171 to reserve a photo booth for your event now.