Discover an open air or enclosed photo booth best for your trade show display
Find a backdrop you like from our large selection
Ask us about our branded features and how we can implement them to your photo booth rental
Distribute photos digitally among those who visit your space, fun photos and strong branding will make your business hard to forget
Don't worry about the technical stuff, we will have an expert team arrive to set up and run the photo booth for you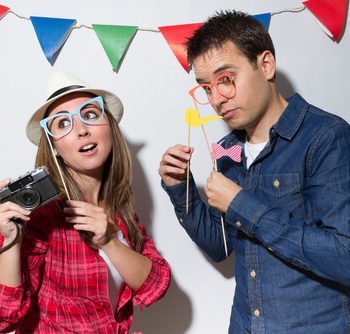 Endless Entertainment Options For Your Event
Our visitors had tons of fun using the photo booth, it helped the day go by fast!
Other companies would visit us just because they wanted to try the photo booth… Never seen that before!
Orlando trade shows are a great way for companies to increase their product sales. You can talk to people who haven't heard of your company and expand the popularity of your business. However, you're going to have to attract people to your rental space to do so. But what's an effective way of attracting visitors to your space? Adding a photo booth rental can be an effective option!
We built our photo booth services so they will complement events that are attended by our corporate clients. Make a statement by renting out a branded photo booth. You can create custom backgrounds and add your company logo to the photo and promote your brand. People likely want to share their pictures on social media pages so be sure to incorporate our social media option into the mix so guests can post their photos on Facebook or Twitter minutes after taking their photo. Trade show booth rental in Orlando
can be beneficial for your brand as it will allow your company to reach further audiences after the trade show.
If you are planning to set up for a trade show space in Orlando and want a photo booth for your guests, contact us or give us a call at 407-216-7171 today at A Cut Above Photo Booth. A photo booth will leave trade show attendees with a positive impression of your company. You'll be able to provide entertainment for your guests and promote yourself at the same time!