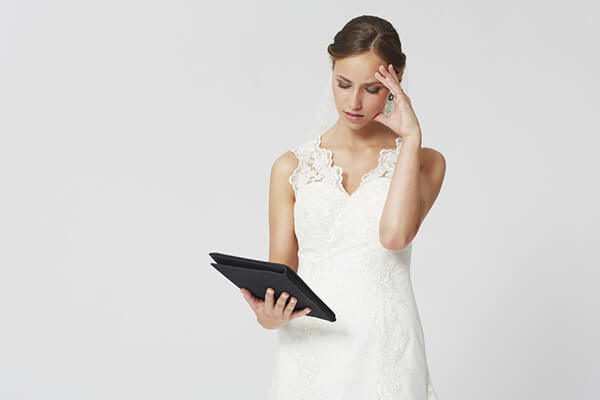 5 Tips for Dealing with the Stress of a Wedding
It's your big day! The last thing you want to be is stressed out. After so much effort and planning, you deserve things to work out smoothly for an event to remember. You are probably super excited to plan the perfect wedding, but it can be an overwhelming task. There are so many details to consider. Before you get in over your head with the stress of wedding planning, consider these 5 tips for dealing with that stress.
Organize
If you have never planned anything your life,  it's time to start! There are so many aspects of planning a wedding that it can be easy to forget every detail and decision if you don't write it all down. Just the thought of it all can bring upon feelings of anxiety and stress, but don't panic. There are plenty of online wedding planning services that can help you with all kinds of tasks, from helping you schedule invitations to giving you insight into the latest wedding theme trends and locations.
Choose ONE Role!
Yes, there are a plethora of things to get done but remember that you are only one person. More importantly, you're the bride! Choose one thing that you want to make your focus or project for your big day and gage in on that. Any other tasks should be handled by your contact person.
Assign a Contact Person
This is usually the wedding planner or the maid of honor. Your contact person will make sure that your phone isn't ringing off the hook. They should also be fully knowledgeable on everything pertaining to the wedding. If your contact person is calling you every time someone calls them then you need to find a new contact person.
Stay in Your Comfort Zone
Stay in your element! The wedding planning experience itself is foreign to you. The last thing you want to do is add other unnecessary tasks to your agenda. For example, if watching game shows and eating ice cream calms you down, do it! Don't go out and pick up a random yoga session to try and cope with the stress. Planning a wedding is tough enough; reward yourself by enjoying activities that are fun for you.
Fuel Your Body
Whether you have a goal weight for your wedding day or you just feel too stressed to eat, you need to fuel your body.  Your body needs energy to perform these tasks and aside from the health risks you face when you don't eat, you'll find yourself even more stressed. Indulge in your favorite snack or get on a healthy eating regime to reach that goal weight. Whatever you do, make sure to eat well. We need you bright-eyed and bushy-tailed for your big day!
Relieve one of your stressors and have your contact person reach out to A Cut Above Photo Booth for your Orlando wedding photo booth needs!  Let us capture this unforgettable experience with our high quality photo booth rental service. Contact us today for a free quote!