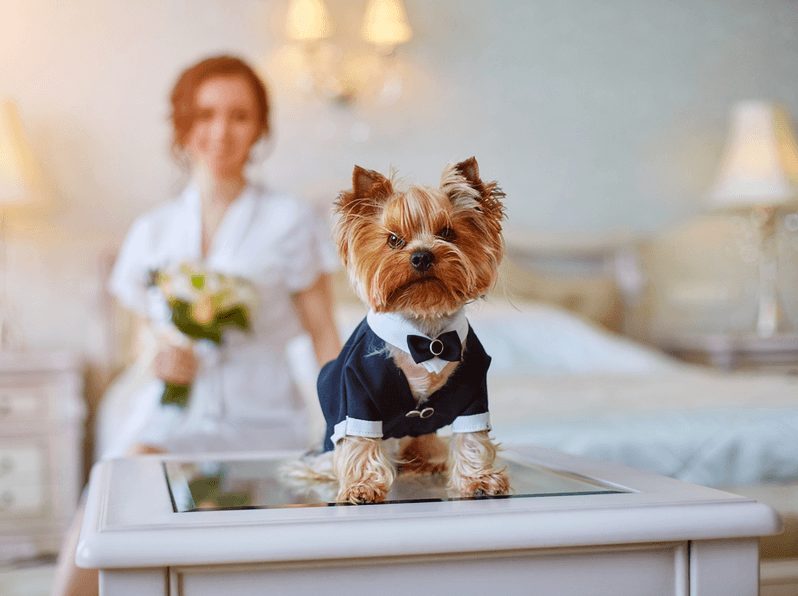 4 Ways to Incorporate Your Pet into Your Wedding
If you own a pet, you know just how important a little furry friend can be. In fact, most pet owners would equate caring for their four-legged children to caring for a human child because they love them just as much. In recent years, incorporating pets into weddings has become an extremely popular and widely accepted trend. From walking the bride down the aisle to just showing up for pictures, there are a number of different ways pets can be incorporated into your big day!
Below are 4 unique ways you can make your pet a part of your special day, in ways that you'll never forget!
Dog Ring Bearer or Flower Girl
For the couple that's willing to share their spotlight, perhaps the most special and involved way to have your pet at your side on your wedding day is to have them walk down the aisle as the ring bearer or the flower girl.
This idea is great but requires some preparation. You may have to leave a trusted friend or family member in charge of your pet that morning. Make sure your pet is on its best behavior by having that friend or family member exercise your dog before the ceremony to tire them out. Your pet may require several practice runs to make sure they perform and don't get anxious at the ceremony. You may even need to enlist a special dog trainer to make sure everything goes according to plan.
Don't forget that you'll also need to assign someone the task of watching your pet after your wedding.
Pets in Formal Photographs
Photos are a wonderful way to incorporate your furry friend into your special day. Have a friend or family member transport your pet to an animal-friendly location for your formal photos. Working with a photographer to incorporate your pet in some of your shots is a memorable way to commemorate your special day with your four-legged friend. Your pet might also enjoy squeezing into a professional photo booth with you and your guests!
Getting Ready with the Bridesmaids or Groomsmen
An option for those with animal-friendly locations at their disposal is to allow their pet to be involved in the getting ready process. Featuring your pet in a hotel room or other location with your bridesmaids or groomsmen is a wonderful way to remember and involve your pet in the wedding, and you will get some adorable photographs in the process.
Pet-Themed Wedding Cake Topper or Stationery
If all else fails and your pet is not able to physically attend the big day, what better way to make them a part of your wedding than to include their likeness on your wedding stationery or cake topper?
Many companies can create custom cake toppers that include your pet. You may also ask your stationer to use a photograph or creative drawing of your pet to include on your paper goods for your wedding, making sure no one forgets about your pet on your special day.
Whether physically or in spirit, there is a vast array of choices when deciding to include your pet on your memorable day.
Pet-Friendly Wedding Photo Booths
If your pet is going to be part of your wedding day, there's no doubt about it – you need to have pictures of the occasion. And what better way to get a few shots of your furry friend than with a pet-friendly photo booth at your wedding? 
At A Cut Above Photo Booth, because we want your wedding to be an extraordinary event you will cherish forever, all of our open-air and enclosed photo booths are pet-friendly! When you call our office, you'll see firsthand that our photo booth coordinators love pets as much as you do and will go above and beyond in setting up and managing your wedding photo booth to be accessible to them. For weddings in and around Central and South Florida, We offer free photo booth quotes! Call our office today at (800) 295-0430 to find out about our availability and reserve your pet-friendly photo booth.